Regular price
$9.80 USD
Sale price
$8.50 USD
Unit price
per
Sale
Sold out
Introducing the ingenious Eraser Topper, the perfect companion to your Omoni Dual Pen & Pencil. This accessory goes beyond aesthetics, adding practicality and personality to your writing tools. The delightful daisy shape isn't just charming—it's a functional masterpiece. Each set includes six pink and six purple eraser toppers, adding color and security to your workspace.
More than just a stylish addition, these eraser toppers prioritize eco-friendliness. Constructed with premium, non-toxic rubber, they ensure user safety and a greener footprint. The anti-roll feature prevents your pens from wandering off, fostering an organized and efficient workspace. Meanwhile, the slide-to-body eraser design allows quick and easy access, ensuring seamless corrections.
These eraser toppers unite style and substance, ideal for both classrooms and professional settings. They secure your writing instruments, transform edits into effortless tasks, and infuse charm into your surroundings. Elevate your writing experience today with this thoughtful accessory that effortlessly blends beauty and practicality.
Enhance Your Tools: Daisy Eraser Toppers for Omoni Dual Pen & Pencil, designed for perfect fit and functionality.-Compatible with any Pencil with a diameter of 0.4 inches.

Effortless Erasing Everywhere: Embrace the convenience of our slide-to-body eraser design ensuring instant and convenient eraser availability. Enjoy quick access to corrections, smooth edits, and notes on the go.

Stay Put, Stay Organized: Prevent the frustration of pens rolling off your desk with the anti-roll feature. Our anti-roll feature ensures an organized and efficient workspace. Bye-bye, rolling pens!

Kind to You, Kind to Earth: Crafted from high-quality rubber, these eraser tops are safe for you and the environment, making them ideal for all users. These eraser toppers are as eco-conscious as they are efficient.

Beyond Classroom: A must-have for professionals at the office and students in classrooms who adore functional and fun cap erasers. Stock up with our bulk-friendly packs.
Features:
Slide-to-body Design: Is an alternative to traditional pencil toppers, with a cute design that securely holds to the body of the pencil.
Multiple Edges for Erasing: Our ''flower'' design features five petals that provide 5 precise edges for effortless erasing of details.


Daisy Eraser Size:
-0.94'' x 0.94'' x 27''
-0.39'' Diameter

Material:
-Rubber
Package Includes:
-(6x) Pink Daisy Eraser
-(6x) Purple Daisy Eraser

View full details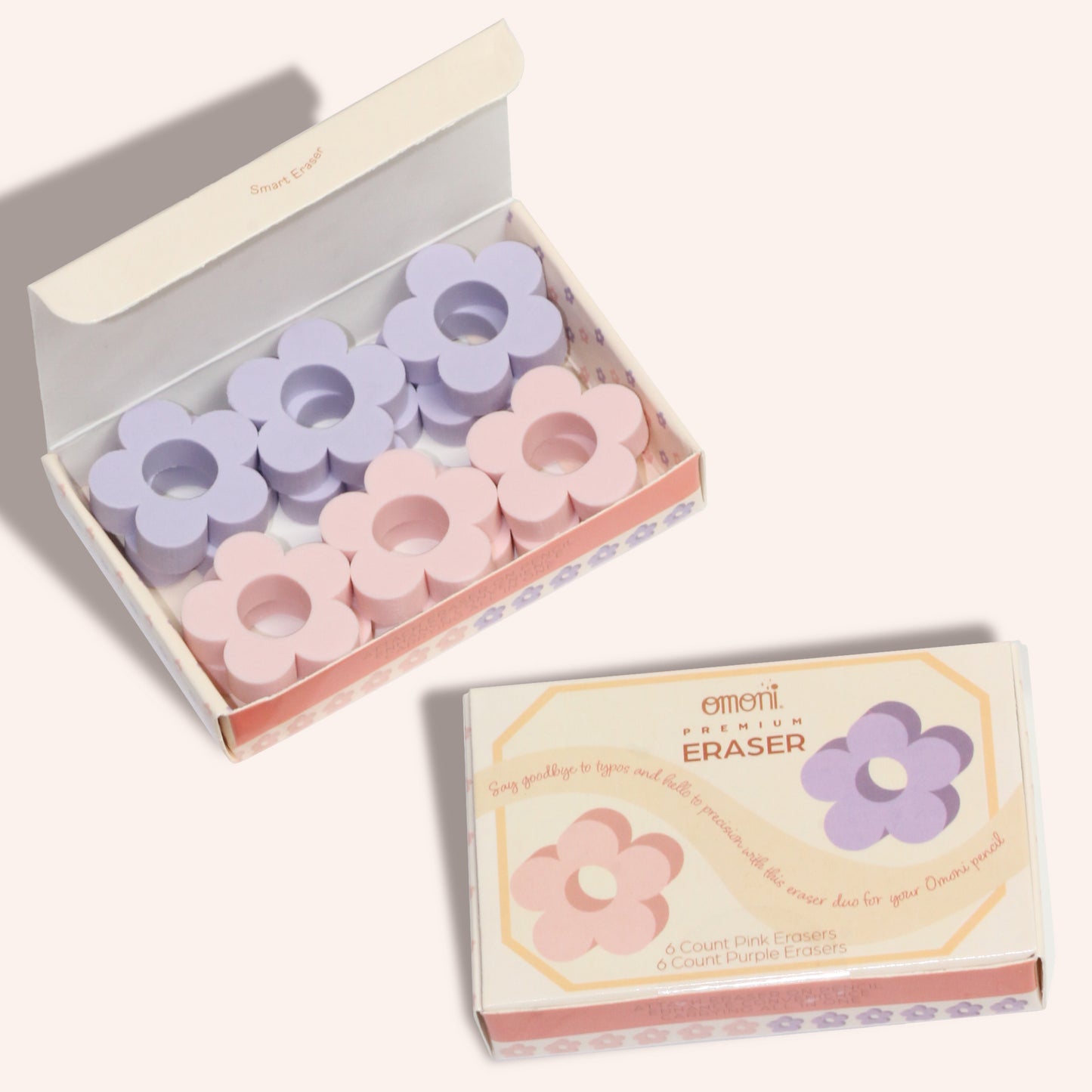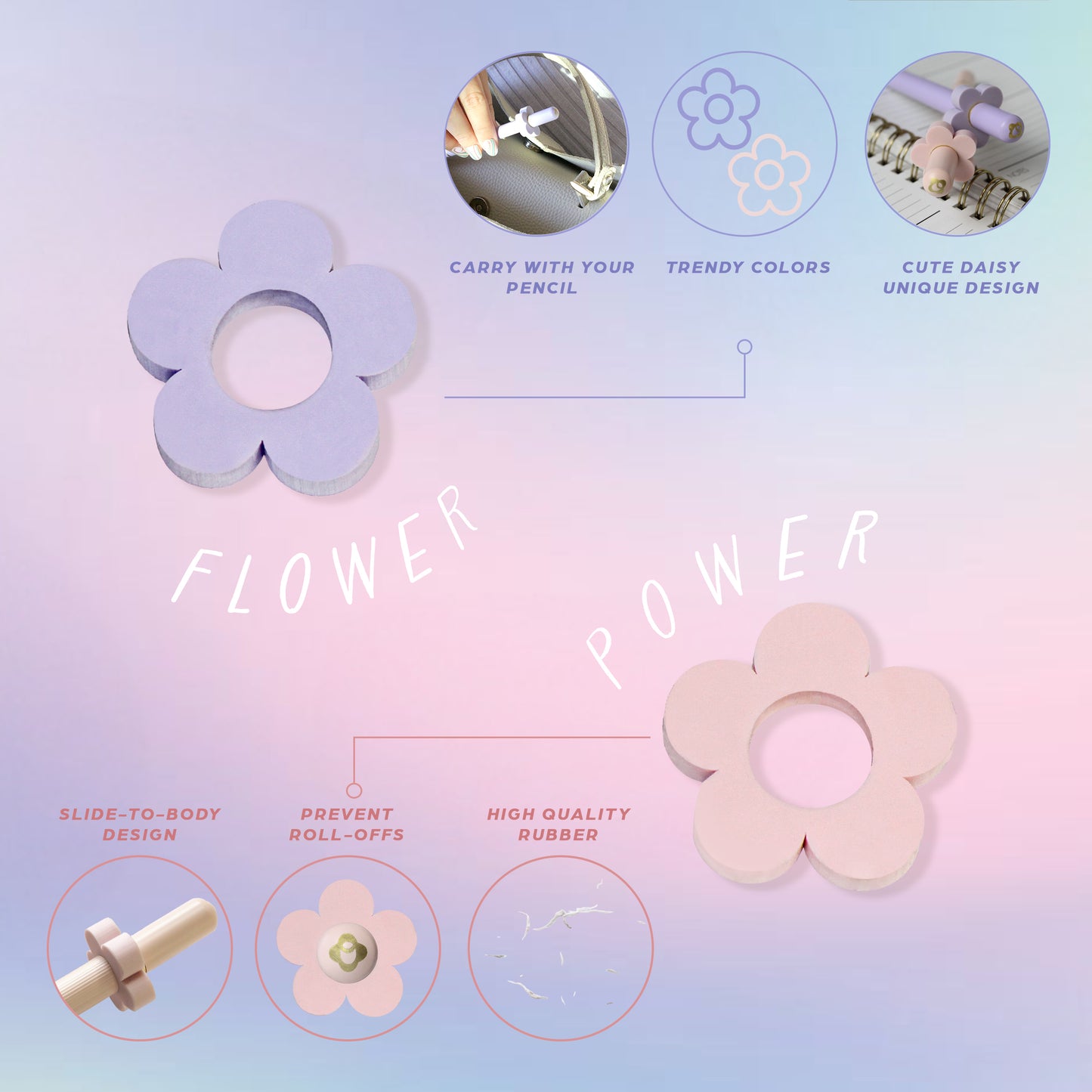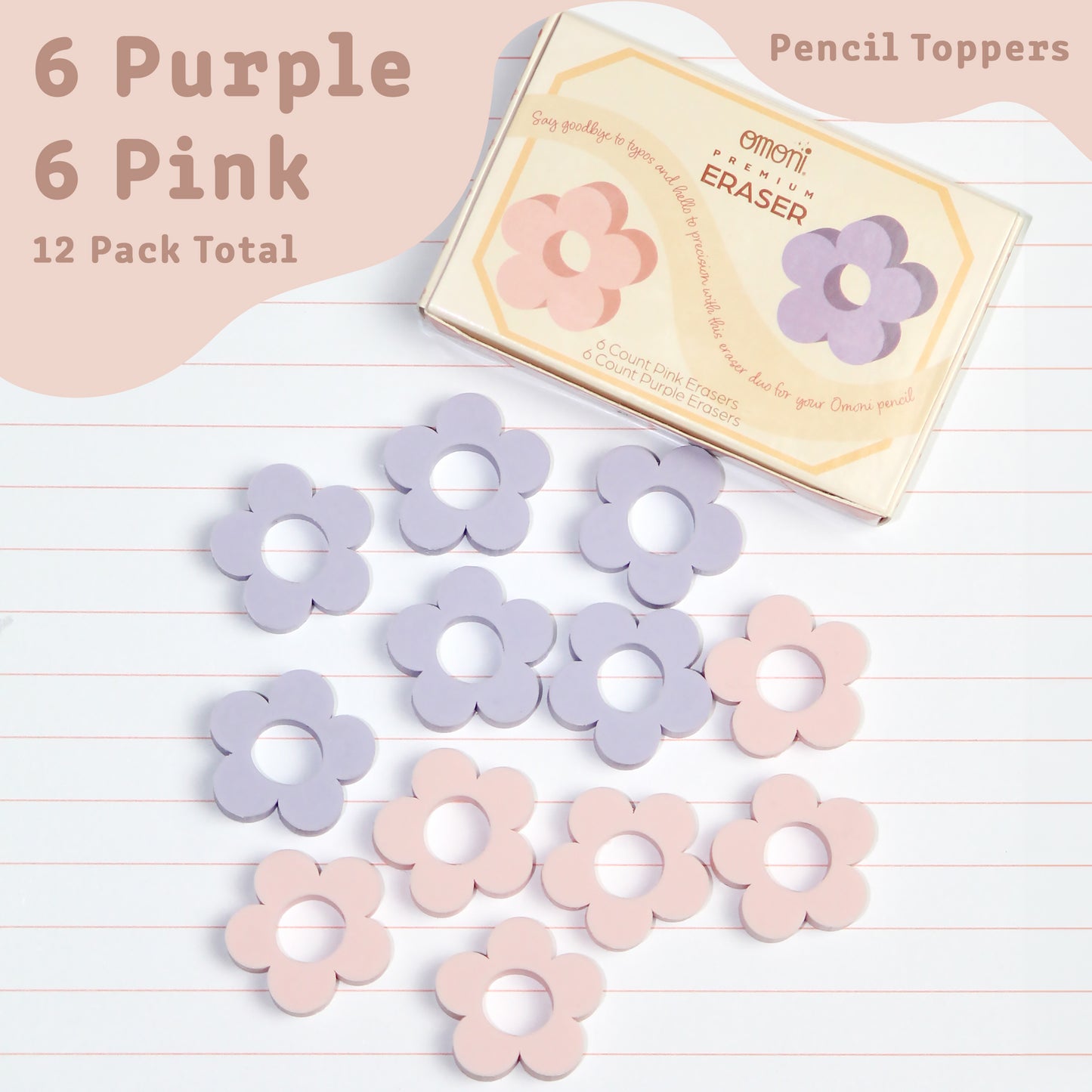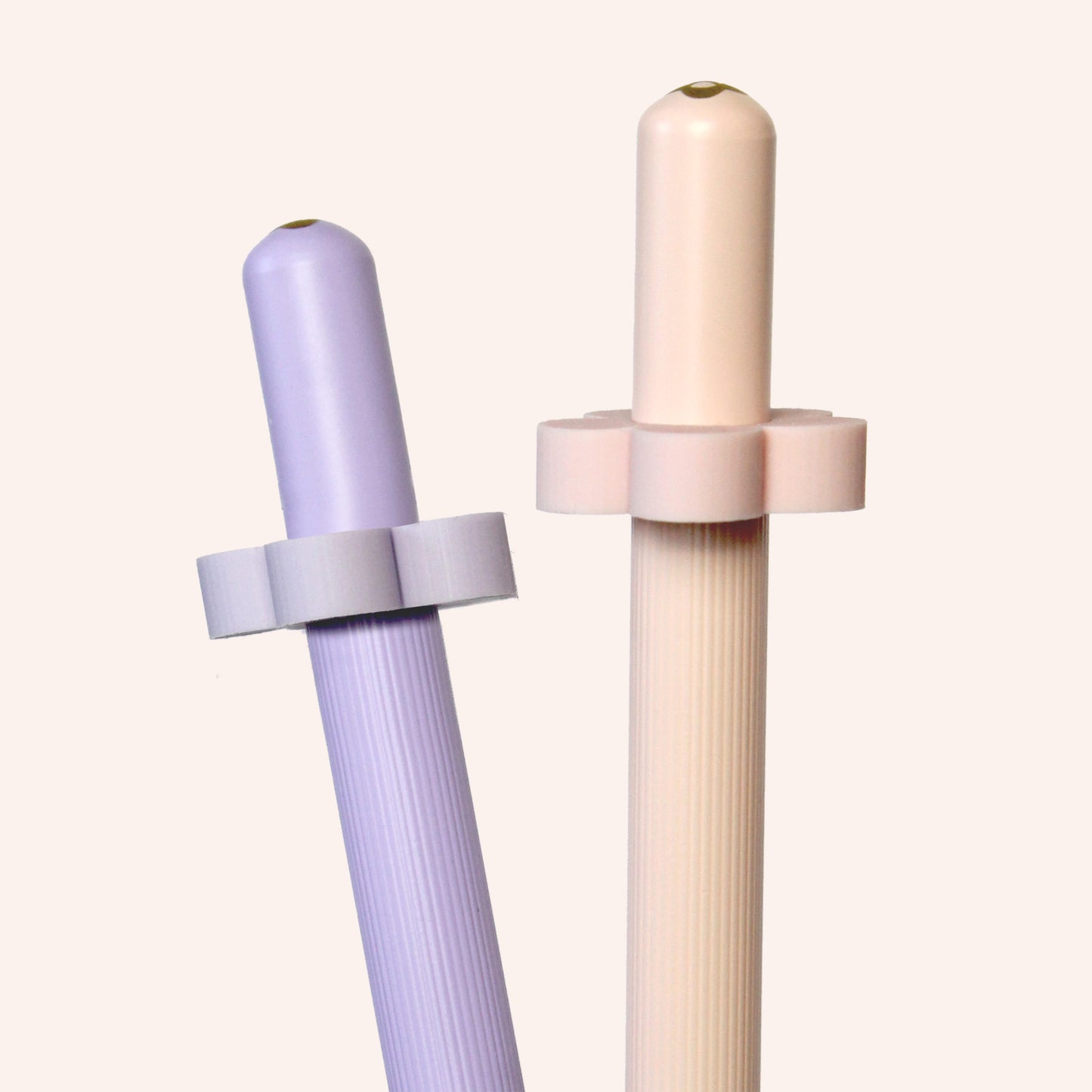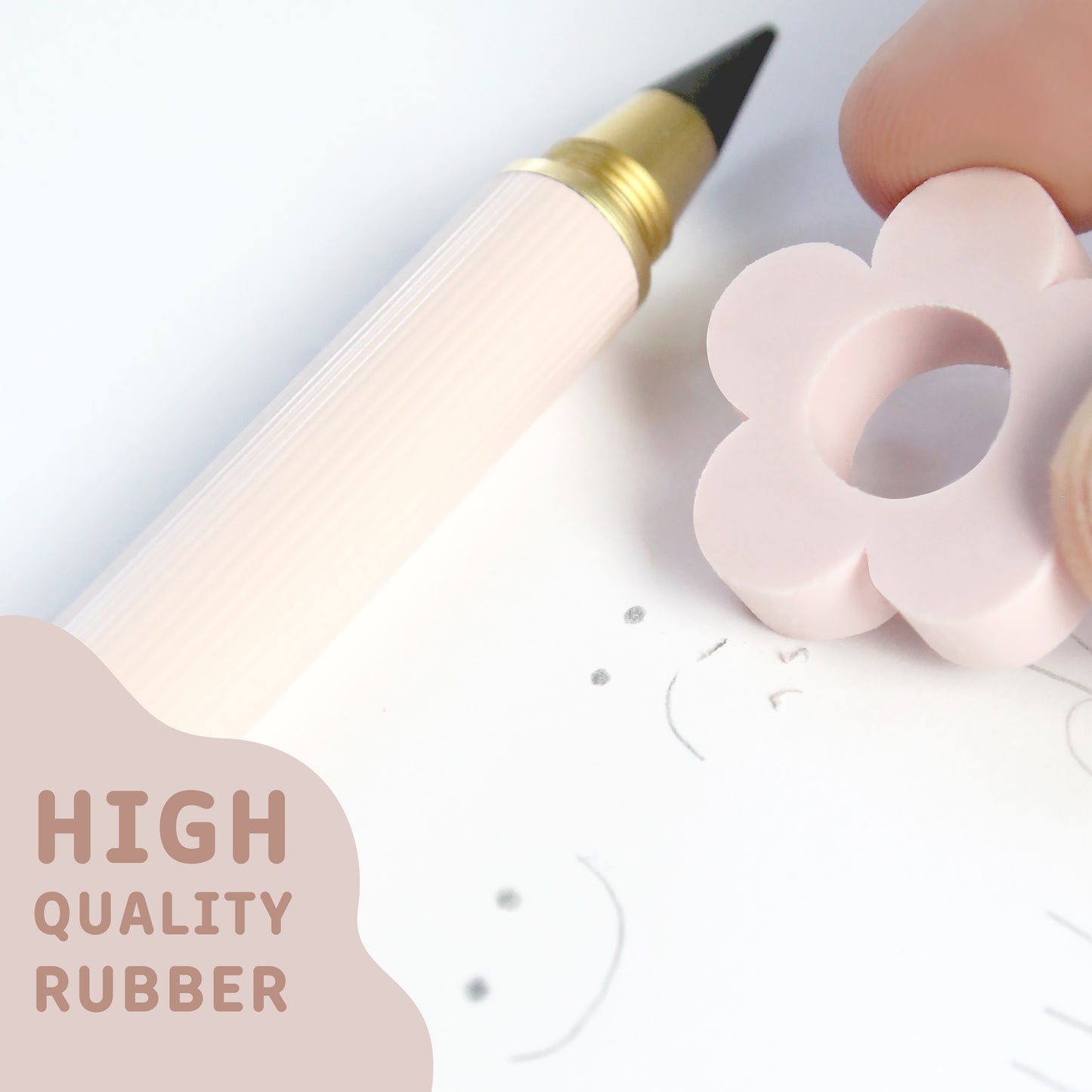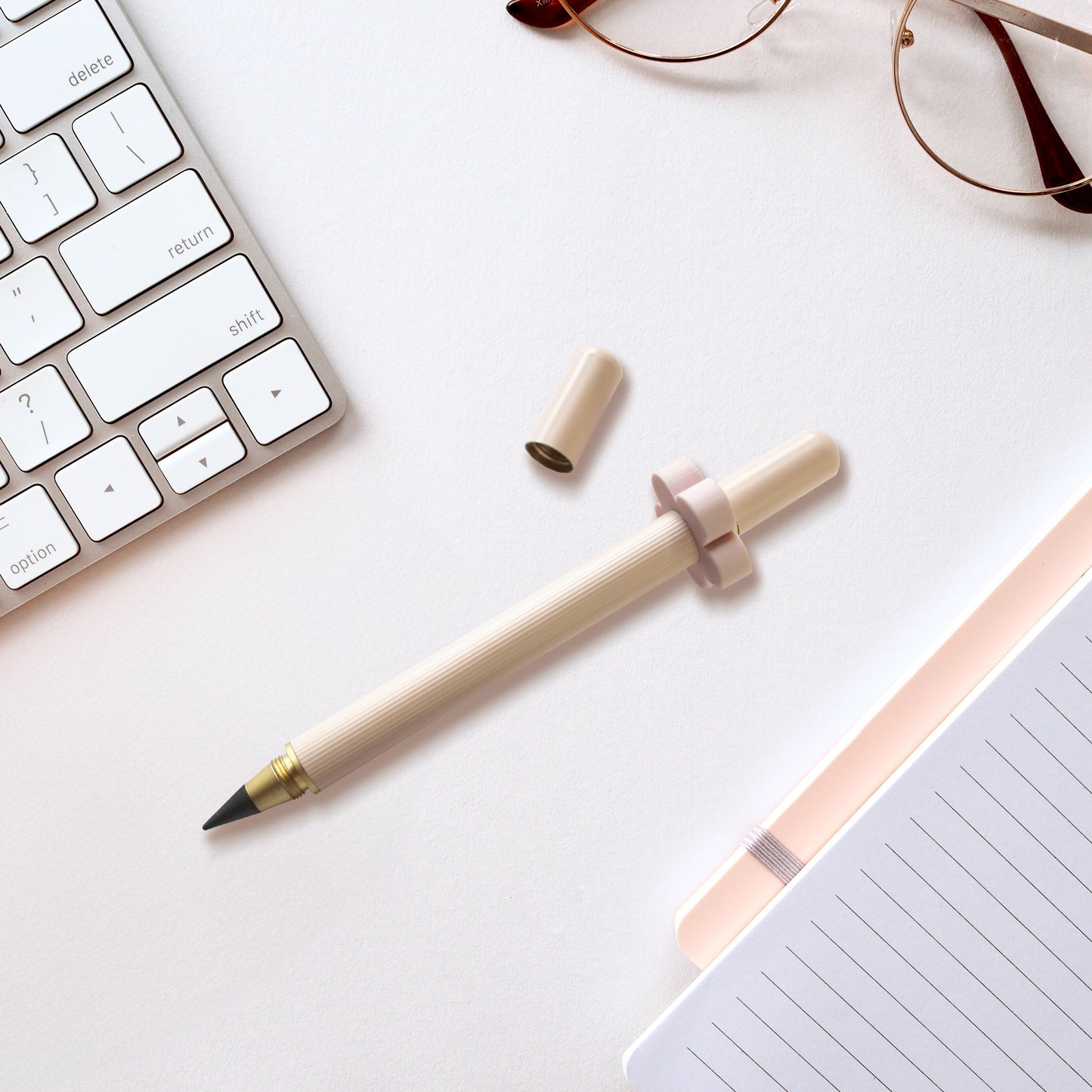 Free Free Shipping +$100

It is 2023, and we all deserve Free Shipping on all orders over $100. More simple than a relationship! Visit our Shipping Policy for more information.

30-Day Refund Guarantee

If you're unhappy with your order, which will not make us happy, either... Send it back within 30 days for a refund. Visit our Refund Policy for more information

Bring it back, no strings attached!

No hustle for our online shoppers! Show your hands up, and we will take your hand and guide you through the process. Visit our Return Policy for more information