Regular price
$10.00 USD
Sale price
$10.00 USD
Unit price
per
Sale
Sold out
Our tote bag is finally here! With our signature designs, this tote will remind you of something special. Special for having cute and cheerful Korean words to your daily routine.
Perfect size to carry our Reusable boards with the Carry-On Travel Case! Get ready to start your day studying Korean.
Handmade with love as usual!
안녕
[an.nyeong]
The word 안녕 [an.nyeong] has a meaning in Korean, it's a way of saying "hello" or "goodbye".
Not only is it a fashionable piece to add to your wardrobe, but it also serves as a great conversation starter to connect with fellow Korean language and culture enthusiasts.
Imagine the possibility of meeting someone who shares the same passion as you and being able to break the ice with a simple "안녕" [an.nyeong]. This tote perfectly showcases your interest and love for the Korean language while spreading positivity and good vibes.
Take advantage of this unique opportunity to express yourself and connect with others. Get your "Korean Greetings" T-shirt today and start spreading the joy of 안녕 [an.nyeong]!
Don't miss the chance to show your appreciation for Korean language and culture with our 안녕 [an.nyeong] design. Get yours today and spread peace and love wherever you go!
안녕하세요 [annyeonghaseyo] = formal, polite with a bow
안녕 [annyeong]= informal, hand wave 
Feature:
Exquisite signature font crafted by OMONI
Package Includes:
(1x) Tote Bag 
Application Design:
Vinyl
Care Instructions:
Vinyl Design
A dryer machine can reduce the size of the tote and design
Turn the tote inside out to iron the tote
View full details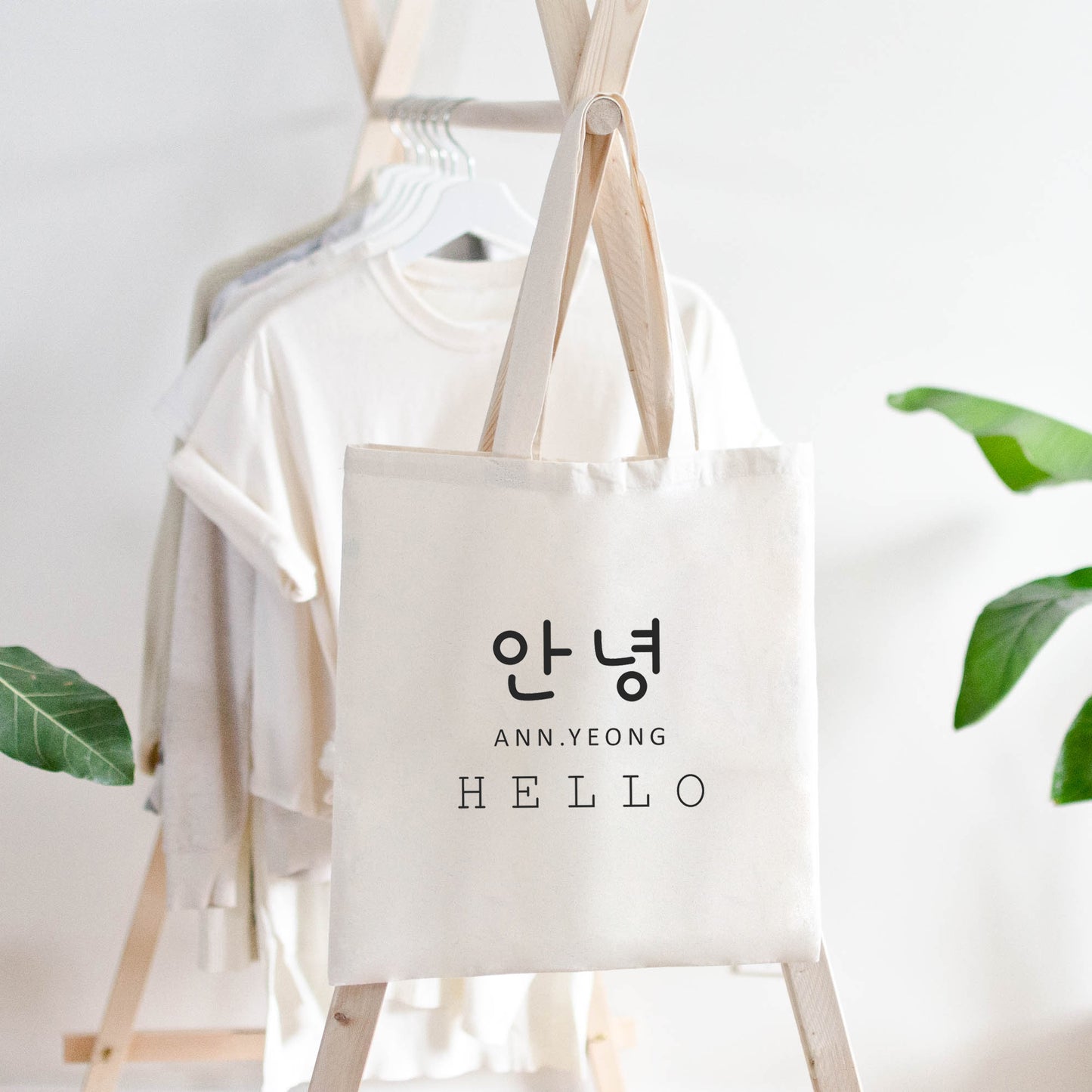 Free Free Shipping +$100

It is 2023, and we all deserve Free Shipping on all orders over $100. More simple than a relationship! Visit our Shipping Policy for more information.

30-Day Refund Guarantee

If you're unhappy with your order, which will not make us happy, either... Send it back within 30 days for a refund. Visit our Refund Policy for more information

Bring it back, no strings attached!

No hustle for our online shoppers! Show your hands up, and we will take your hand and guide you through the process. Visit our Return Policy for more information